Fuerte group hotels, one of Spain's most established hotel groups, has recently agreed to a partnership with Userguest. The group was looking to increase its share of direct bookings and optimize their direct revenue stream. Martín Aleixandre, Fuerte group's Commercial Director stated there was no doubt that Userguest was the right partner to deliver these objectives, saying "we are always looking for ways to improve our goal of increasing the direct channel and this collaboration has allowed us to do so quickly and efficiently. Automation and knowledge of the client through data is among our main concerns and Userguest goes straight to these points, we could not be more satisfied with this collaboration and the support of the team behind it."
Increasing direct bookings and boosting revenue is something Martín Aleixandre says was easily achieved by Userguest for Fuerte group hotels and the results were immediate – "at Fuerte group we analyze the data in great detail to obtain the reality of the impact of the inclusion of any action and especially technology. It is not easy for a technology to be implemented in a few weeks and to produce tangible results from the first moment, normally these tools need time to implement, adapt and learn, which delays clearly seeing the ROI and even in some cases it is necessary to abandon the Project.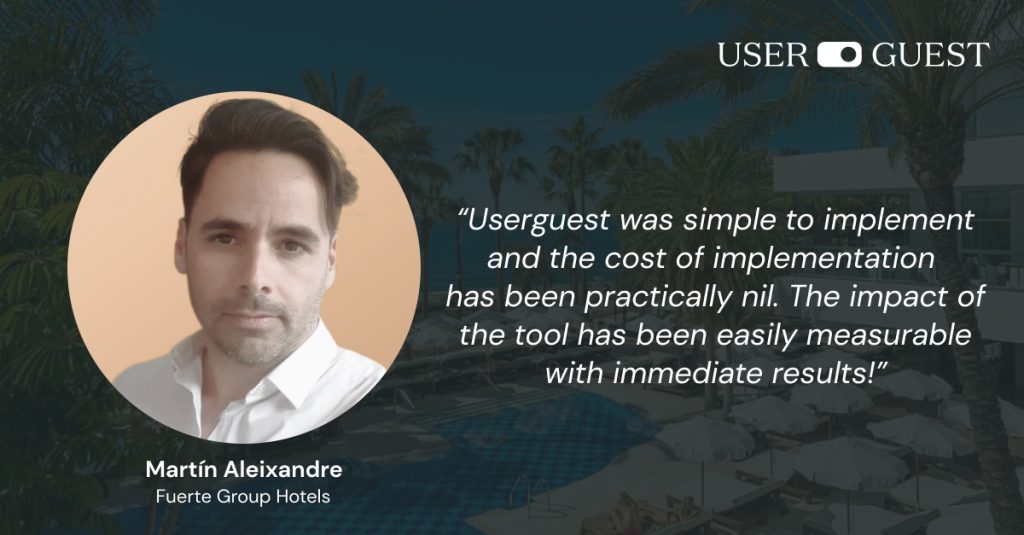 Commenting on the partnership, Userguest's founder Hicham Benyebdri said, "We are thrilled to welcome Fuerte group hotels onboard. After a trial period with just two of the group's properties, the results spoke for themselves. By adding our smart notifications to the Amare Ibiza and Amare Marbella hotel websites, we were able to match the booking intent of those visiting the websites with the hotel's inventory priorities, delivering personalized offers and incentives to each user. This match resulted in more bookings for both hotels, as well as increased revenue, simply because the hotels were automatically able to push the right inventory at the right price on the right dates!".
In just one month Fuerte group hotels managed to see a 63% influence in direct sales and revenue, a great result according to Martín Aleixandre. – "This tool helps us in efficiency, increased sales and customer satisfaction, all core to our business, we look forward to seeing the ongoing results of this investment with Userguest."
If you'd like to set up a trial for your hotel group, reach out to our support team today!