Effective marketing plays a crucial role in attracting and retaining guests for any hotel. To appeal to their target audience, hoteliers have adopted a combination of traditional marketing methods like print ads, billboards, and radio commercials, as well as digital marketing channels and strategies.
However, since the pandemic, we've seen a shift in the hotel industry. Technology adoption is no longer a choice for hoteliers but rather a priority. With the advent of technology and evolving consumer preferences, novel marketing avenues such as RevMarketing Automation have surfaced, presenting new opportunities for hotels to improve their marketing game.
In 2023 automation has become a must-have for the industry. By embracing hotel tech solutions and investing in their tech stack, hoteliers improve performance through data-driven technologies.
So, what's the difference between RevMarketing Automation (RMA) and traditional hotel marketing?
Traditional hotel marketing involves reaching a broad audience through mass media. Hotels create a marketing campaign that includes a mix of print ads, billboards, and TV or radio commercials. This approach is often costly and may not be targeted to specific audiences.
Even digital marketing which goes a few steps further has its limitations as it lacks the ability to integrate the hotel revenue strategy and occupancy aspect into the the advertising campaigns. The hotel websites are static and do not have the capacity to tailor the offers based on the booking habits of individual users.
On the other hand, RevMarketing Automation is an innovative technology that offers a unique way to match guest data and preferences to a hotel's inventory needs. It is different from traditional digital marketing strategies which mainly focus on promoting a hotel's offerings to a broad audience.
RevMarketing Automation's data-driven approach uses technology to personalize the offers to each user. By analyzing data in real-time, hotels can adjust their messages to suit the needs and preferences of individual guests. This personalized approach creates a more engaging experience for the guest, which leads to increased likelihood of conversion, as well as increase in loyalty and repeat business.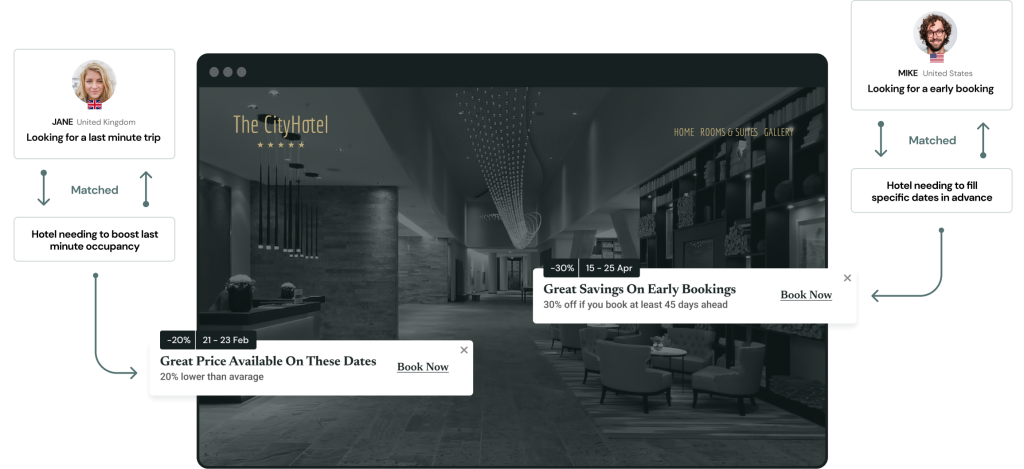 At Userguest, we are dedicated to making the RevMarketing Automation technology available and easy to use for revenue managers and hoteliers.

Our tool applies the RMA principles automatically by aligning the user's booking intention with the hotel's inventory priorities. 
This opens up the hotel website, enabling revenue and occupancy to be increased through automated offers and incentives.
And while traditional marketing methods have their place in the hotel industry, RevMarketing Automation is the game-changer. It gives hotels which have adopted this technology the advantage of implementing smart revenue strategies directly on the hotel website, allowing revenue and marketing to align by pushing these strategies out to the user and engaging them.
Get in touch with us today for a free trial and demo!