As customer behavior changes year over year, the competition in the hospitality industry grows ever fiercer between hotels, OTAs, and booking engines. As a result, it is vital to adjust your hotel marketing strategies accordingly, to secure more direct bookings and avoid becoming outdated.
Obviously, marketing plays a major role in generating hotel revenue, so it is important to use effective strategies. In this article, we will cover 8 hotel marketing strategies that will keep you ahead of the game in 2020.
Optimizing your website
According to a Google survey, "52% of travelers will visit your hotel's website after seeing you on an OTA".
Based on this statistic, ensuring that your website accurately reflects the quality of your rooms and services, as well as the amenities that you offer, is key.
Your website design should also be unique, and set you apart from the crowd. Consider updating your design regularly based on the latest website design trends. Moreover, ensure that the UX is optimized. A 360° video, for example, will optimize your UX by allowing users to visit your rooms virtually, enabling them to visualize their stay there more easily, and to choose the appropriate room for their needs and budget. As reported by Forbes, "81% of companies view customer experience as a competitive differentiator".
In addition to having a unique website design and an optimal UX, it is important to provide unique content, to bring you closer to your customers. Try and empathize with them, and put yourself in their shoes when generating content.
All of these factors will encourage visitors to book directly through your website, by facilitating their user experience, and tempting them with attractive designs and offers.
Go mobile-friendly
Take a look at these relevant statistics about the mobile phone: "70% of travelers with smartphones have done travel research on their smartphone" – Think with Google.
"When it comes to travelers looking to book a hotel, we see nearly half of Google Hotel Ads referrals now coming from smartphones, and this is growing by almost 2.4X year on year" – Think with Google.
"A mobile phone is the number one travel accessory, with twice as many people preferring to travel with their device than their loved one" – Hotels.com.
All of these statistics show the importance of having a mobile-friendly strategy, in order to be discovered by more mobile users and ensure an excellent mobile UX.
When you optimize your mobile user experience, visitors feel no need to switch from mobile to desktop to complete the booking process, and this streamlined booking leads to a higher conversion rate.
Leveraging AI tools
AI tools enable hotels to glean relevant data about visitors and their needs and preferences.
Accordingly, they enable you, as a hotelier, to increase your direct bookings, improve your ROI, and offer a personalized UX to meet your guests' expectations.
At Userguest, we use this sort of AI-powered smart tool to provide a customized UX, by saving booking searches, displaying smart pop-ups and notifications at the right time, making use of predictive behavior, etc.
As Forbes points out, "80% of customers say they are more likely to do business with a company if it offers personalized experiences".
Metasearch engine
A metasearch engine is a search engine that shows hotel room availability and compares the different prices of OTAs in one place. Well-known examples include Google Hotel Ads, TripAdvisor, Trivago, and HotelCombined. You can see this in action on the right-hand side of the image below.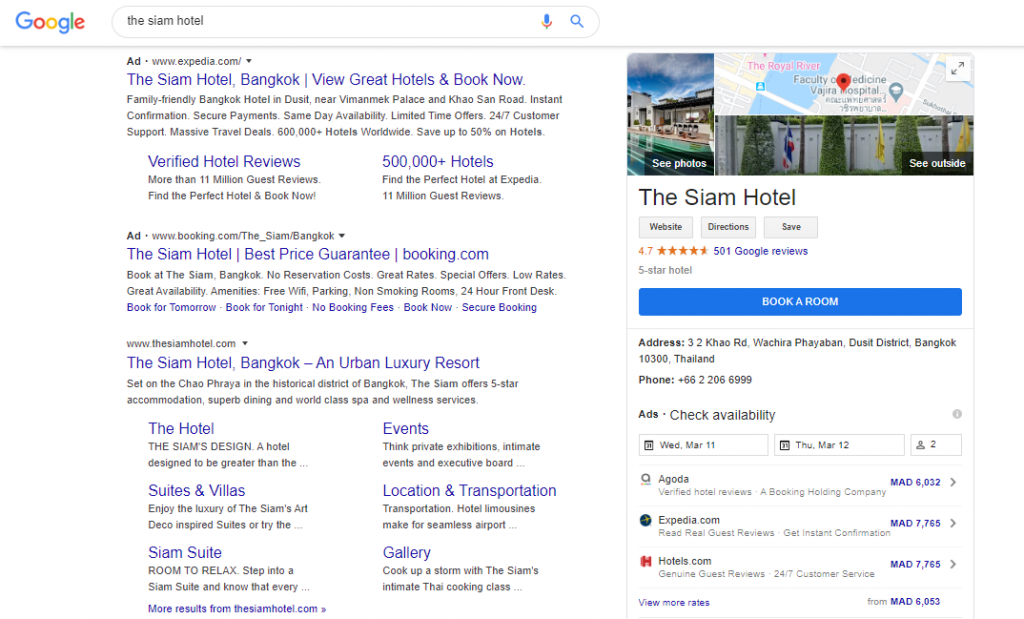 Metasearch engines can help you increase your hotel's visibility and boost your brand value. They allow you to bid on ad placements and keywords to make sure that your hotel appears prominently and well-ranked in search results, making it more likely to be found. And, they use the PPC system, so you only pay if someone clicks on a result.
Capitalizing on these engines is key to driving more direct bookings.
Remarketing
Remarketing or retargeting is an efficient and effective strategy to retaining more guests and generating brand loyalty. This type of campaign is cheaper than looking for new customers. So, when retargeting your previous guests, you can propose personalized offers and promotions to encourage them to return to your hotel. This strategy is a two-for-one, saving you time and money.
E-Reputation
It is extremely important to fine-tune your online reputation, because this is what reflects your guests' perception of you.
To maintain your online reputation, you should start with the state and quality of your hotel's services. Online feedback always comes from the concrete connection between your hotel and your previous guests.
Furthermore, prospective customers will check online reviews and avoid booking at a hotel without any genuine ones, incentivizing your current guests to leave positive reviews following their stay will be a good strategy, so reviews are key to knowing how to improve your services.
Facebook/Instagram Ads
Facebook Ads allows you to target just the right audience, and create ads in the format you prefer: image, videos, or carousel ads. You can also use A/B tests to determine which content works best for your audience. Facebook Ads also enables you to seamlessly create Instagram ads. Moreover, you can benefit from Facebook's advanced analytics. In short, it is one of the cheapest ways to capture new guests and retarget previous ones.
Influencer Marketing
As a general rule, people tend to trust word-of-mouth recommendations from ordinary people like themselves, more than they trust company advertisements.
A good strategy to capitalize on this is to incentivize a trusted celebrity with a heavy social media following, to publicize or mention your hotel in their posts. This could even involve providing them with a free stay in exchange for vlogging about their experience at your hotel.
This can significantly improve your visibility, your online reputation, and, in turn, your bookings.
We'll conclude by referring you to an eye-opening study by Wunderman, entitled "Wantedness", which showed that 56% of people are loyal to brands that demonstrate a deep understanding of their priorities and preferences.
By following these 8 hotel marketing strategies you will streamline your marketing process, and gain loyal customers, more visibility, a strong brand image, and more direct bookings to your website.