What is a website session?
A website session is a group of user interactions with your website that take place within a given time frame. For example, a single session can contain multiple page views, events, social interactions, and e-commerce transactions.
The number of website session or the number of times a user visits your website before making a reservation is an important indicator of your website performance and 'bookability'.
Why are the website sessions important?
The analysis of the website sessions can identify potential problems with your website and can give you important insights for your online marketing.
Having no bookings on the first or second session might be an indicator that your website is not well optimized.
Learn more about hotel website to booking engine click rate.
How can I find the number of sessions before a reservation?
You can find each market lead period and length of stay on the Userguest Dashboard under the 'Booking Behavior' section along with other important performance metrics.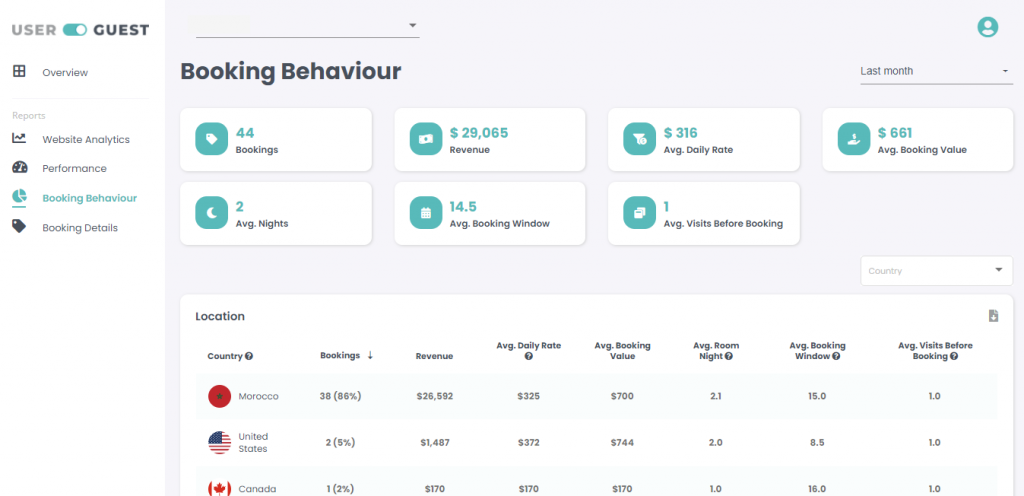 Analyze your website sessions performance and make the necessary adjustments in case your website is not convincing users to make a booking on the first session.
Website sessions check list
Create a special Flash Sale offer
Create an attractive exit intent pop up
Create personalized offers for your markets based on booking behaviour.
Have a clear call-to-action button visible at all times.
Improve website loading time