What is the market online booking behaviour?
The market booking behaviour stands for the way a market typically makes a reservation. Attributes to the online booking behaviour are the booking lead time, seasonality, length of stay and other preferences.
Why is booking behaviour important?
Displaying personalized offers for your website visitors has a huge impact on your hotel website click rate and your booking engine conversion rate.
Showing the offers that the different markets are most likely to book at the right time is key for improving your direct bookings and revenue.
How can I find a market's booking lead period and length of stay?
You can find each market lead period and length of stay on the Userguest Dashboard under the 'Booking Behavior' section along with other important market metrics.
Analyze your markets' behaviour and make sure you are targeting each market with the right personalized offer at the right time.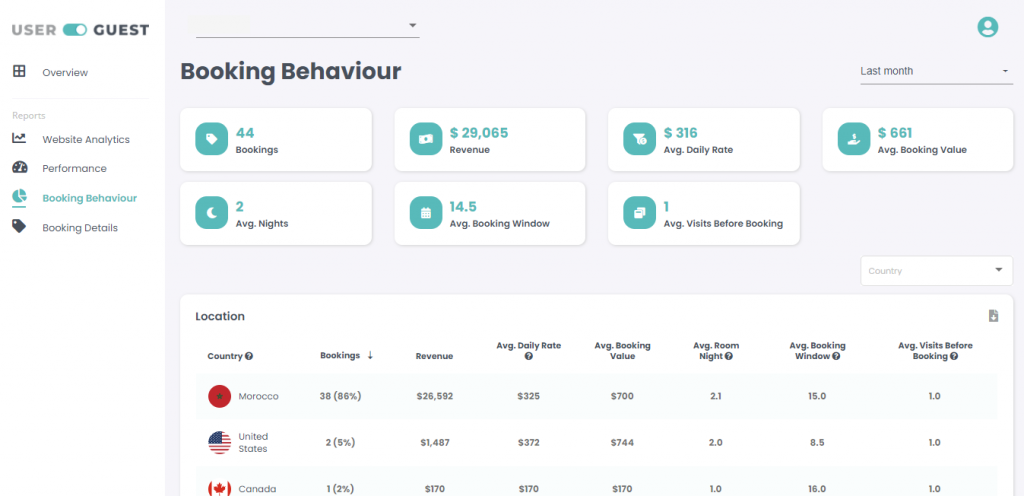 Use the Userguest notifications targeting settings to maximize your conversion rates and revenue.
Market booking behaviour checklist
Check your markets lead period
Check your markets average length of stay
Check which rooms do your top markets typically book
Check which offers are booked the most by your top markets
Check each market's seasonality