Data may seem trivial to many hoteliers, and yet it is of vital importance in decision-making in order to boost website performance and drive direct bookings to the top. And now is the time to capitalize on it more than ever.
In this article, we'll highlight how to identify, measure, and analyze these metrics.
Website Visitors
The first metric is the number of your website visitors. This is an important metric because it shows you whether or not your marketing strategies and campaigns are generating enough traffic to your hotel website.
To know whether you're on the right track or not, here are some averages for independent and boutique hotels:
If you receive 5,000 or more visitors per month, this means you're generating great traffic.
If you receive between 2,500 and 3,500, you're hitting below par and could benefit from a little effort.
And if you receive fewer than 1,000 visitors, your situation is critical and vitally need to improve your marketing strategies to start generating more traffic.
Click Rate
This metric measures how many visitors click on the "Book now" button, sending your visitors to the booking engine.
This means asking yourself whether or not your website has what it takes to convince your visitors to start the booking process.
The answer to this question generally lies first with your website's UX – an excellent UX will facilitate the booking process and keep it simple and rapid.
Another determining factor is the website design and visuals, which should be attractive, high-quality, and mobile-friendly.
You can calculate this metric by using the following formula: CR = (Booking Engine Visitors/ Total Website Visitors) *100. You can obtain this data from Google Analytics.

Here is an analysis of what your CR means:
If your CR is 40% or more, your website is doing well.
If it's between 20% and 30%, you're within the average.
If it's 10% or less, you should fine-tune your website design, optimize your UX, and display more offers on your website.

Conversion Rates
In the hospitality industry, there are two types of Conversion Rates:
The first one determines whether your website succeeds in converting visitors into bookers. Its formula is CVR = (Total Bookings / Total Website Visitors) *100

The second one is the Booking Engine Conversion Rate and it identifies whether the booking engine that you use succeeds in converting visitors. Its formula is BECR = (Total Bookings / Total Booking Engine Visitors) *100.

This is an important metric because it shows you whether you should keep working with your current booking engine provider, or switch to one with better performance.
Some of the key factors to consider include UX seamlessness, a simple booking process, responsive design, reasonable pricing, personalizable features to allow you to build your unique brand with the same design and visuals as your website, rate parity to show the same rates of rooms, flexibility in changing room rates due to the marketplace situations, inventory control, booking policies, and secure payments.
You can analyze this metric by considering:
If your CVR percentage is 4% or above, then you're converting enough visitors.
If it's between 2% and 3%, you're within the average.
If it's 1% or lower, then you should consider changing booking engine providers.

At Userguest, we offer a Smart Marketing Assistant for hotels with a live dashboard that highlights these metrics simply and effectively so you can monitor your metrics and improve decision-making.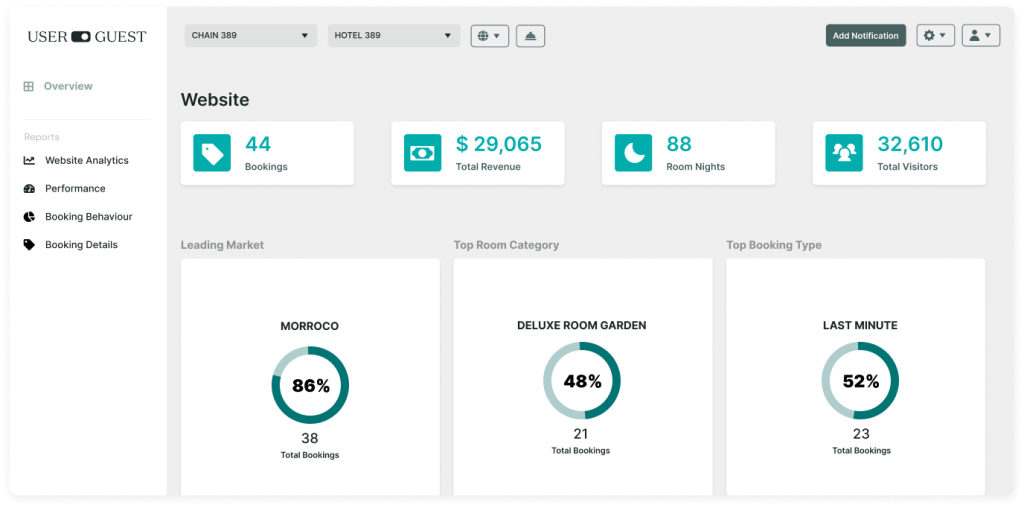 In short, every hotelier should be measuring and analyzing at least these primary metrics to stay ahead of the competition. We can help you simplify by offering a 1-on-1 session with one of our experts to help you optimize your online performance.