RevMarketing Automation (RMA) is a game-changing technology that offers hotels a unique way to match guest data and preferences to their inventory needs.
RevMarketing Automation allows hoteliers to identify guest preferences and behavior patterns and to create personalized offers that are tailored to each guest's individual booking intent. For example, if a guest is looking to book last minute, the hotel can offer a special rate for last-minute dates while optimizing its own occupancy needs.
So let's have a look at a few examples and strategies you can use to boost your low occupancy periods.

Strategy 1: Boost occupancy more than 3-6 months in advance.

With the help of the Userguest RMA boosters, you can generate early bookings and fill occupancy in advance.

Our settings allow you to select the 90-180 day period and to only target dates based on their occupancy.

Since the period of 3-6 months still gives your hotel enough time to fill in rooms you don't need to be too aggressive in your offer. At this stage, you can offer a free benefit such as a free room upgrade to make the offer more attractive.
In the example below the notification would only offer dates with less than 40% occupancy and you won't have to offer an upgrade for dates that are already performing well: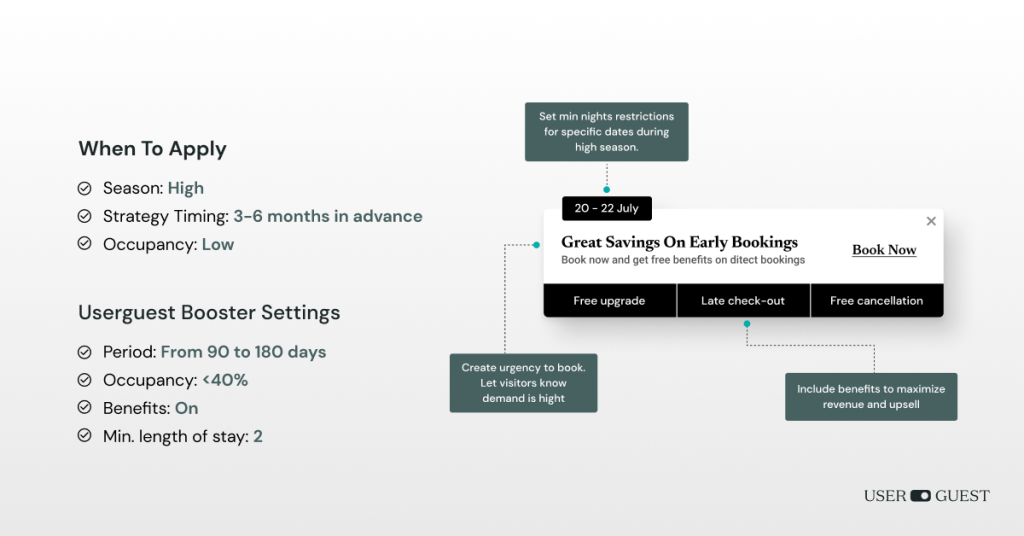 In case you don't have a special benefit or discount to offer you can allow the system to automatically determine whether the rate for the dates the user is searching for is lower than the average and if that is the case the notification will display the rate difference in percentage discount, making these dates more attractive.

Once again, this notification would be displayed only to users whose booking intent matches the period you have decided to target and boost.

Scenario 2: Boost last-minute occupancy
In this scenario, your hotel wants to only provide a special offer when the rooms are not filled in a week before the check-in date.

You can target only the next 7 days and decide on the occupancy level you would like to target e.g only dates with less than 50% occupancy.

Here you can be more aggressive with the offer and either give a promo code discount or an attractive benefit: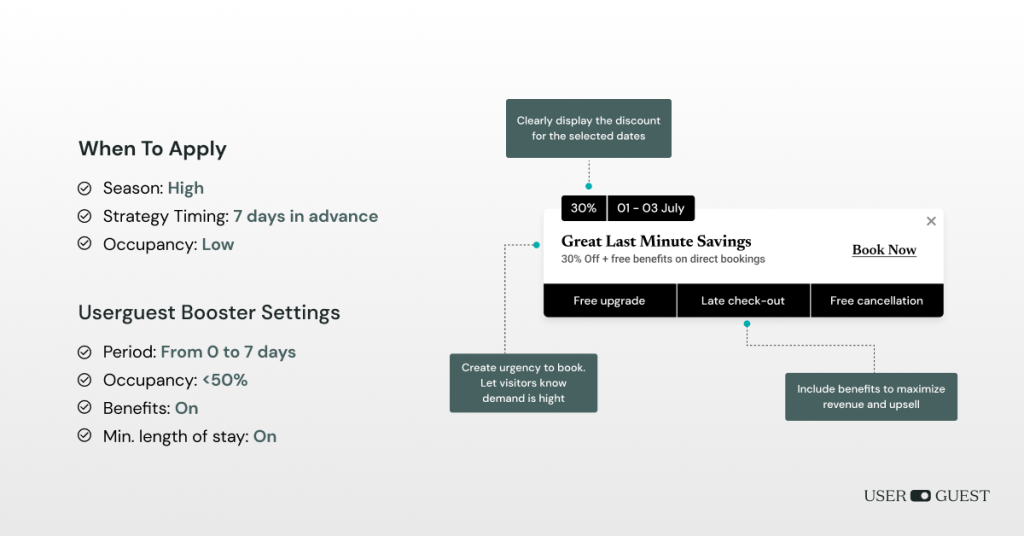 You can have all scenarios active simultaneously. The RevMarketing Automation will determine which strategy applies to which user and will maximize the impressions for the most revenue.
The tool allows you to create an unlimited number of scenarios and strategies based on your hotel specific needs. It is a powerful tool that can help your hotel increase its revenue and occupancy during low periods.
The integration of RMA technology on hotel websites is a game-changer, providing hotels with the advantage of implementing smart revenue strategies directly on the hotel website and aligning revenue and marketing efforts. Hotels that have adopted RMA technology have seen significant benefits, including increased revenue, occupancy, and guest loyalty.
Want to try RMA on your hotel website? Contact us for a free demo and trial today!