Ready to unlock extraordinary revenue during the high season? It's time to kick your hotel's revenue management into high gear!
In this article, we'll unveil three sensational offers that will skyrocket your bookings and propel your profitability to new heights. Get ready to create a frenzy with early bird discounts, ignite urgency with last-minute deals, and entice guests to extend their stay with captivating long-stay offers. It's time to dominate the high season like never before!
Turbocharge Bookings in Advance with an Early Bird Offer:
Want to watch your bookings soar long before the high season hits? Strap in for the exhilarating ride of an early bird offer. Buckle up for these electrifying components:
Time-Sensitive Flash Sale: Ignite the countdown to exhilaration! Amp up the excitement by offering jaw-dropping flash discounts to adrenaline-fueled guests who book their stay two or more months in advance. Be the hero they've been waiting for, saving them big while securing revenue in advance. Make the rate non-refundable.
Exclusive Perks for Thrill-Seekers: Stand out from the crowd by offering exclusive benefits available only on your hotel's website. From tantalizing F&B credits to heart-pounding room upgrades, early check-ins that leave them breathless, or free access to a rejuvenating spa oasis – give them an unforgettable experience they won't find anywhere else.
Minimum Night Stay for Ultimate Satisfaction: Extend the adventure and encourage guests to indulge in an extended escape by setting a minimum night stay requirement. Give them more reasons to revel in your hotel's offerings, ensuring maximum occupancy and adrenaline-pumping revenue during the high season.
Fuel Urgency with a Last-Minute Offer:
Ready to transform vacant rooms into a captivating spectacle? Get your heart racing with a last-minute offer that will leave guests scrambling to secure their dream getaway. Buckle up for these high-octane tactics:
Turbocharge on Mobile: As the world spins faster and more spontaneous, target the adrenaline junkies who live for last-minute thrills. Craft a sizzling mobile-exclusive offer that ignites their sense of adventure. Be the go-to choice for those craving instant gratification, as 50% of mobile bookings are made for last-minute or next-day stays. Zoom ahead of the competition by optimizing your website for mobile bookings and capturing this untamed market.
Tailored Thrills: Set the stage for an unforgettable experience by offering a last-minute deal only for select room categories. This allows you to fill specific rooms while preserving rate integrity for other accommodations. It's time to transform empty spaces into unforgettable moments, all while maximizing revenue during periods of lower demand.
Rev Up with Occupancy Thresholds: Don't let idle rooms get the best of you! Rev your engines and unleash the last-minute offer when your occupancy falls below a certain level. Take control of your destiny by maximizing revenue from regular bookings while turbocharging your hotel's occupancy during quieter times. Time to fill the void with electrifying guests seeking spontaneous adventures!
Extend the Journey with a Long Stay Offer:
Ready to captivate guests with an offer they can't resist? Ignite their desire to prolong the magic and watch your revenue soar. Get ready for these captivating components:
"Stay Longer, Pay Less" Thrill Ride: Imagine the joy on your guests' faces as they realize they can revel in more of your hotel's splendor while saving big! Create a special offer where guests receive a discounted rate for staying a minimum of three or more nights. This irresistible deal incentivizes guests to extend their stay, leading to increased revenue and an opportunity for them to fully immerse themselves in the exceptional experiences your hotel has to offer.
Strategic Periods: Unlock the power of strategic timing! Apply the long stay offer during periods that require a boost in occupancy. Identify those quieter weekdays or less popular seasons when the high season energy dips slightly. During these times, promote the long stay offer to entice guests who might have otherwise chosen a shorter stay elsewhere. With this tactical approach, you can maximize revenue during traditionally slower periods and maintain a vibrant atmosphere all year round.
Room Category Flexibility: Paint a canvas of possibilities! Choose to apply the long stay offer to specific room categories. By offering flexibility in room selection, you can effectively manage inventory while promoting higher room occupancy for the duration of your guests' extended stay. From breathtaking suites to cozy hideaways, let guests choose their ideal sanctuary and create memories that will last a lifetime.
Ignite Your Revenue Potential in the High Season with Userguest
With Userguest by your side, you can unleash irresistible incentives and offers on your hotel website that are tailor-made for each individual guest. From exclusive offers that match their preferences to personalized messages delivered at the perfect time and on the ideal device – we ensure your guests feel an irresistible surge of excitement and urgency to book their dream stay at your hotel.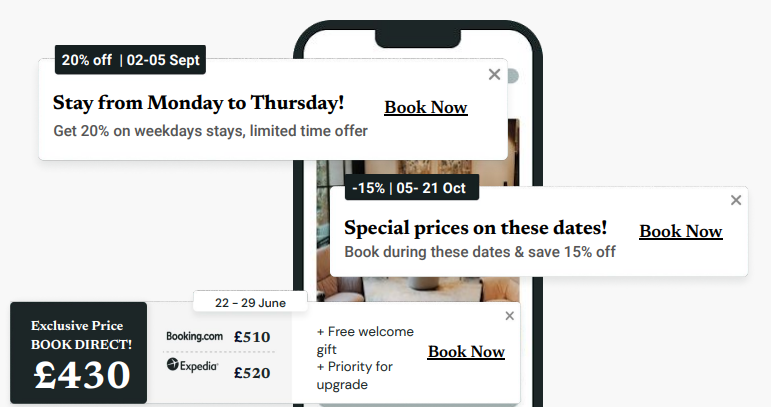 So, are you ready to unlock the full potential of your hotel's revenue this summer? Don't let this opportunity slip through your fingers! Be the hero of the high season and witness the electrifying impact of Userguest in action. Buckle up for a free demo today and get ready to revolutionize your hotel's success!